Ronix Modular Plug Crimper RH-1830
18712
MVR 8500

MVR 85.00

Save MVR 85
---
---
-Multi-function tool for Crimping 4/6/8 position connectors , stripping and cutting flat/round cable  

-Ideal for Crimping  Cat 5e/6 RJ-45 (8P8C) and RJ-11/12 (6P6C/6P4C) modular plugs

-ability to cuts UTP/STP and strips Cat 5e/6 round cable jackets

-Precision ground contact dies evenly crimp all standard plugs to industry specifications

-A3 Steel body for excellent performance and durability

-Sharp Shear edge made of high-quality SK5 steel for fast and efficient cutting and stripping 

- Suitable for network cable with RJ45 Connector and telephone cable Cable with RJ11/RJ12 Connector.
A modular plug crimper, also known as a crimping tool or crimping plier, is a specialized tool used for terminating modular plugs on the ends of network cables, such as Ethernet cables. Modular plugs, commonly referred to as RJ-45 plugs, are used to connect devices to a network or for other telecommunications applications. Ronix RH-1830 modular plug crimper has a compact design with specific features to facilitate the termination process. It is an essential tool for professionals and DIY enthusiasts who need to create or repair network cables. It provides a reliable and efficient method for terminating modular plugs, enabling the creation of custom-length cables or repairing damaged connectors.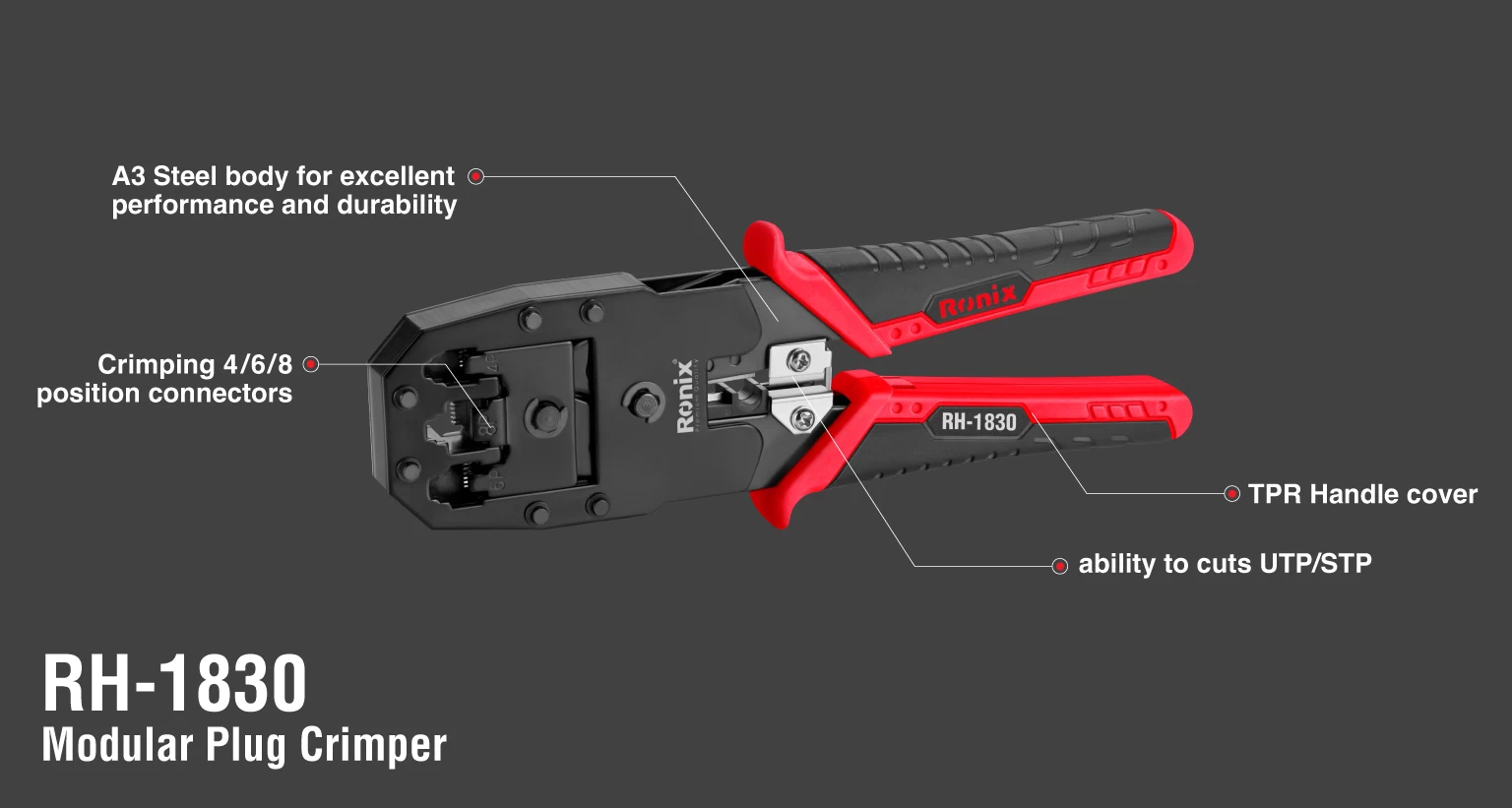 | | |
| --- | --- |
| Model | |
| Size | |
| Body Material | |
| | SK5 |
| | |
| | 4/ 6/ 8 position modular plug(RJ11/RJ12/RJ45) |
| Cable type for stripping and cutting | |
| | |
Detailed Description
Ronix RH-1830 modular plug crimper is designed for professionals to safely crimp RJ11, RJ12, and RJ45 modular plugs. The hardened steel frame and heavy-duty jaws provide long life and trouble-free operation and its handles ensure a secure, comfortable, and non-slip grip.

Ronix RH-1830, Modular Plug Crimper:
The Ronix RH-1830 is a multi-functional tool. A product that belongs in any toolbox. This tool can be used for connecting telephone and network wires, pressing and cutting cables, and also for stripping various cables. This high-quality hand tool is made from sustainable raw materials and has an ergonomic and practical design. Ronix RH-1830 is a superior product that offers acceptable performance in a variety of applications. To learn more about this versatile plier, check out the product description.

Body:
The Ronix RH-1830 modular plug crimper is crafted with a durable A3 steel body, ensuring its longevity and resilience to withstand rigorous usage. Its sharp shear edge, made of high-quality SK5 steel, guarantees precise and clean cuts, adding efficiency to cable preparation. The precision ground contact dies of the crimper ensure consistent and reliable crimping results, delivering secure connections every time. Additionally, the PVC handle provides a comfortable and ergonomic grip, reducing hand fatigue during extended use.

Crimping types:
The Ronix RH-1830 modular plug crimper is a versatile and multi-functional tool designed for various crimping tasks. It provides the capability to crimp 4, 6, and 8-position connectors, making it suitable for a wide range of applications. Additionally, it offers the functionality of stripping and cutting both flat and round cables, allowing for efficient cable preparation. With its ability to crimp Cat 5e/6 RJ-45 (8P8C) and RJ-11/12 (6P6C/6P4C) modular plugs, it is an ideal choice for networking professionals. The crimper is also equipped with the ability to cut UTP/STP cables and strip Cat 5e/6 round cable jackets, further enhancing its versatility. Whether working with network cables featuring RJ45 connectors or telephone cables with RJ-11/12 connectors, the Ronix RH-1830 modular plug crimper is a reliable and convenient tool for achieving secure and professional connections.

Accessories and Packaging:
Ronix RH-1830 modular plug crimper is supplied in a Ronix-designed blister card and contains an easy stripper