Ronix Multi-function Electric Plier RH-1820
18710
MVR 8500

MVR 85.00

Save MVR 85
---
---
-Multi-function tool for stripping wires up to Φ 2.6 mm, shearing wires and cables up to Φ 2.6 mm and Crimping terminals up to 2.0 mm²
-Sharp Shear edge made of high-quality stainless steel for fast and efficient cutting
-More durability by Overall heat treatment process and highest hardness up to HRC 52
-Suitable for cutting Aluminum, copper, steel wires
-Dual color PVC grip handle provides User convenience
-Built-in lock for increased safety
-Widely used in electronic components assembly, maintenance and power line shear 
Multi-function electric pliers, also known as multi-purpose electric pliers or multi-tool electric pliers, are versatile tools that combine the functionality of various tools into a single device. These pliers can perform multiple tasks, such as cutting, gripping, bending, crimping, stripping wires, and more. The Ronix RH-1820 multi-function electrical plier is a versatile hand tool used to strip wires up to Φ 2.6 mm, shear wires and cables up to Φ 2.6 mm, and crimp terminals up to 2.0 mm². This widely used Ronix product shows ideal performance in assembly, electronics industry repair, and power line cutting.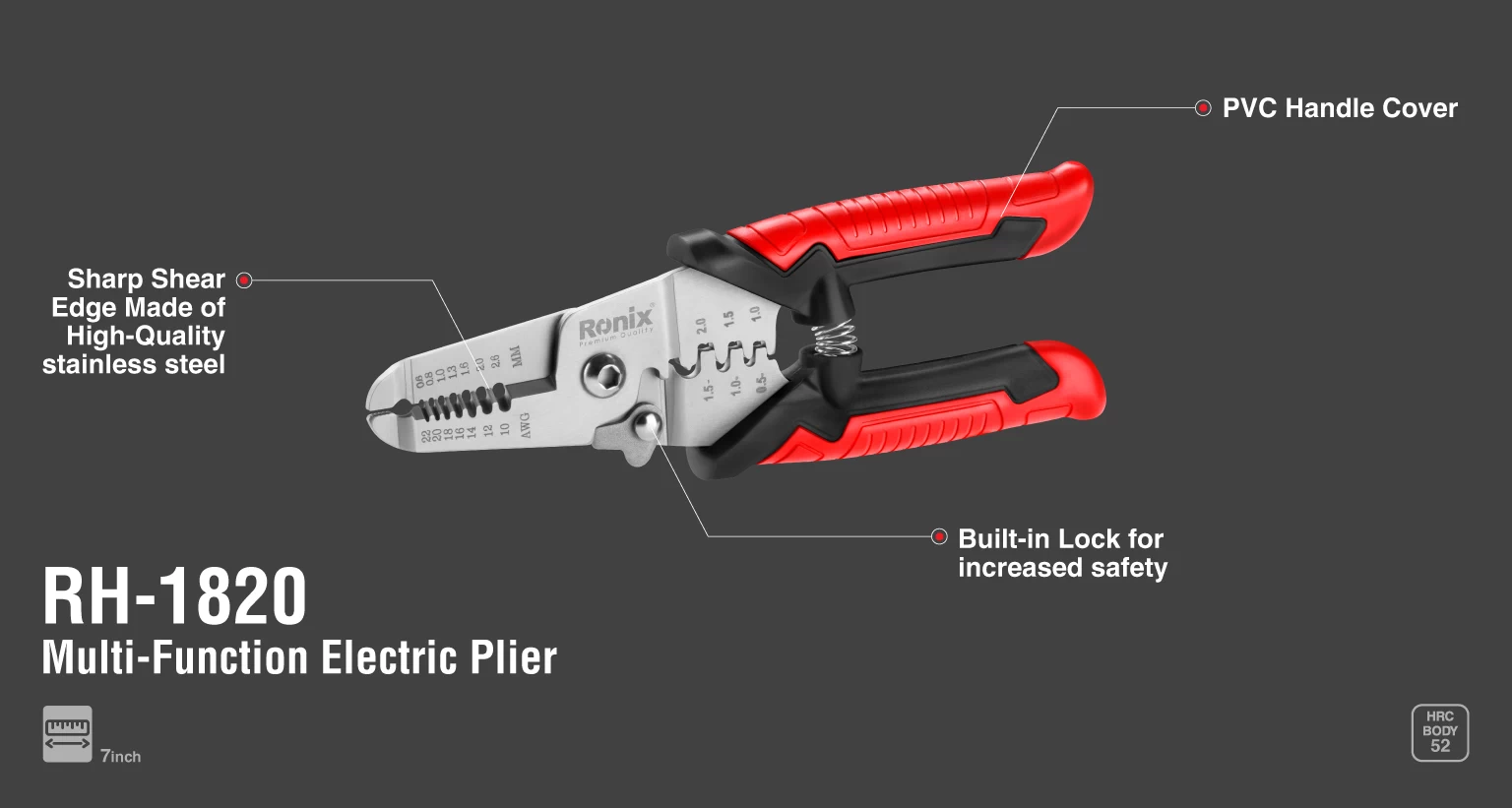 | | |
| --- | --- |
| Model | |
| Size | |
| Body Material | |
| | PVC |
| Hardness | |
| | "American standard(AWG): 10/12/14/16/18/20/22 , metric diameter(mm): 2.6/2/1.6/1.3/1/0.8/0.6 , Sectional area(mm²): 5.5/3.5/2/1.25/0.8/0.5/0.32" |
| | "Wire diameter up to 2.6mm , core section area up to 6mm²" |
| | Sectional area(mm²): 0.5-1.0/1.0-1.5/1.5-2.0 |
Detailed Description
Ronix RH-1820 multi-function electric plier can be handy for electricians, technicians, DIY enthusiasts, and anyone who regularly works with electrical or electronic systems. It provides convenience by eliminating the need to carry multiple tools, allowing for quick and efficient work in various situations.

Ronix RH-1820, Multi-Function Electric Plier:
Tool body material, wire and cable cutting ability, wire head pressing ability, stripping ability, etc. are some of the most important factors that affect the effectiveness of electric pliers. The Ronix RH-1820 multi-function electric plier meets your needs with the best possible characteristics. This plier is used to cut aluminum, copper, and iron cables and wires. In this section, the features of this product are discussed in more detail.

Body:
The Ronix RH-1820 multi-function electric plier is an exceptional tool designed to simplify various tasks with precision and ease. Equipped with a sharp shear edge made of stainless steel, it guarantees durability and a clean cut every time. With a hardness of up to HRC 52, this plier ensures reliable performance even in demanding applications. The dual-color PVC grip provides comfort and a secure hold, enhancing user control and reducing fatigue during prolonged use. Measuring 7 inches in length, it offers optimal maneuverability while maintaining a compact design. Additionally, its built-in lock ensures safe storage and transportation, providing added convenience for professionals and DIY enthusiasts alike.

Wire stripping:
The Ronix RH-1820 multi-function electric plier is a versatile tool designed for efficient wire stripping across a range of American standard (AWG) sizes. With its precise capabilities, it can handle wires of various diameters, from 2.6mm down to 0.6mm, including popular sizes such as 10, 12, 14, 16, 18, 20, and 22 AWG. This plier ensures accurate and clean stripping, enabling users to work with confidence. Additionally, it accommodates different sectional areas, allowing for the stripping of wires with dimensions of 5.5, 3.5, 2, 1.25, 0.8, 0.5, and 0.32mm².

Crimping:
Ronix RH-1820 multi-function electric plier is equipped to handle a range of sectional areas, including 0.5, 1.0, 1.0-1.5, and 1.5-2.0mm². This broad range of capabilities allows users to efficiently crimp wires of varying sizes and ensure secure connections.

Cable cutting:
This practical hand tool can also excel in cable-cutting tasks. It is designed to handle wire diameters of up to 2.6mm, making it suitable for various types of cables commonly encountered in electrical work. Whether you're dealing with power cables, coaxial cables, or other types of wiring, this plier is up to the task. Additionally, it can effortlessly cut through cables with a core section area of up to 6mm². 
Packaging:
Ronix RH-1820 multi-function electric plier is supplied in a Ronix-designed blister card.