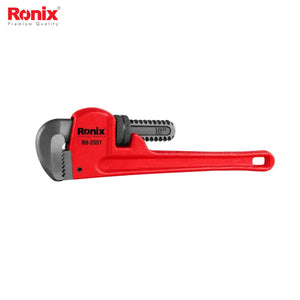 Ronix Pipe Wrench 10 inch RH-2551
18714
MVR 8000

MVR 80.00

Save MVR 70
---
---
Jaw Capacity: 33mm
Precision milled and drop forged steel jaws
Heavy duty finish
Precision milled jaws 
Suitable for all types of pipe work
Hold Everything!
Pipe wrenches are versatile tools that can be found in the toolbox of many professionals such as plumbers, electricians, and mechanics. Their jaws are adjustable and can fit various pipe sizes and shapes. These jaws clamp down on the pipe by applying pressure to the handle, allowing the user to turn any cylindrical object with ease. Made from two different grades of steel and using its precision-milled jaws, Ronix RH-2551 is ready to help you deal with even the most stubborn pipes and fittings.

| | |
| --- | --- |
| Model | RH-2551 |
| size | 10 inch |
| Material | |
| Length | |
| Weight | |
| Finish Coating | |
| Supplied in | |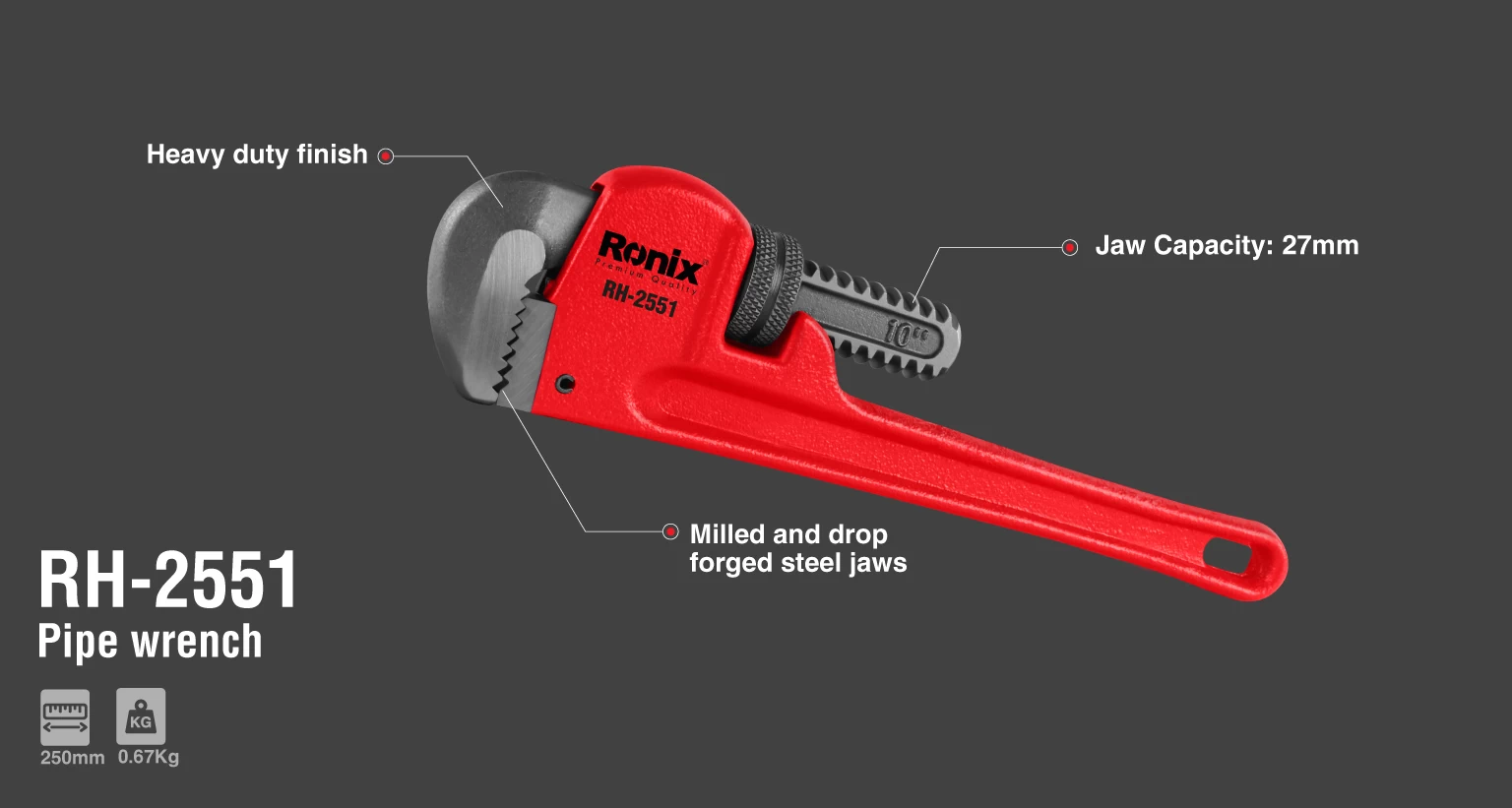 Detailed Description Ronix Water Pump Plier RH-1431
Ronix RH-2551 is the 10-inch variant of our lineup of pipe wrenches that offers a reliable and sturdy body alongside a 33mm wide jaw capacity.

Ronix RH-2551, 10 Inch Pipe Wrench:
Pipe wrenches are commonly used by plumbers, HVAC technicians, and mechanics who work with pipes and fittings. They are beneficial for anyone who needs to securely grip and manipulate cylindrical objects without damaging them, as they can provide a strong grip without slipping or causing wear and tear on the object. Ronix RH-2551 provides these benefits and so much more. Keep scrolling to learn more about this 10-inch pipe wrench.

Body:
Here at Ronix, we aspire to design and create tools that have sturdy bodies, covered by a protective coating that increases their lifespan. This is why our RH-2551 model uses grade 55 and 45 steel for its precision-milled jaws while using grade 45 steel for its body. Every single part of this 10-inch tool is covered by a powder coating which helps it against corrosion and the wear and tear caused by usage. Ronix RH-2551 is 250mm long and weighs 0.67kg, offering a maximum jaw capacity of 33mm.

Packaging:
This versatile and reliable tool comes neatly packaged in a Ronix-designed color box with its iconic red look.