Ronix Self-priming Jet pump 1 hp RH-4022
18724
Features

Submersible pump design to be immersed in water for lifting and draining water 
-Suitable for clean water and free of solids and abrasives, non-viscous, nonaggressive, non-crystallised and other liquids similar to water in physical and chemical properties
-Properly in domestic,drainage or lifting  water from the thanks or river or pool, irrigation of gardens and allotments usage
-Pumps equipped with float switch for automatically controlling water level and pump operation
-Provides with Protection level IP68 Thermal protector and insulation Class B to ensure motor long life
-More efficiency by using Ceramic/Graphite mechanical seal, PPO impeller, PP pump housing 
-The motor duty cycle type S1 lead to increase  durability
Self-priming Jet pump
Self-priming jet pumps are among the best devices to use for transporting water from one location to another. These pumps work by using a nozzle and venture system to create a vacuum that draws water up into the pump. As water enters the pump, it mixes with a small amount of air, which creates the pressure needed to move the water through the pump and into the discharge piping. Ronix RH-4022 is a tool that has excellent suction capacity even when there are air bubbles in the liquid. This pump is suitable for clean water and other liquids that are free of solids and abrasives, non-viscous, nonaggressive, non-crystallized, and chemically neutral. If you are looking for a new jet pump to help you transfer these types of liquids, the Ronix RH-4022 is the product to go for.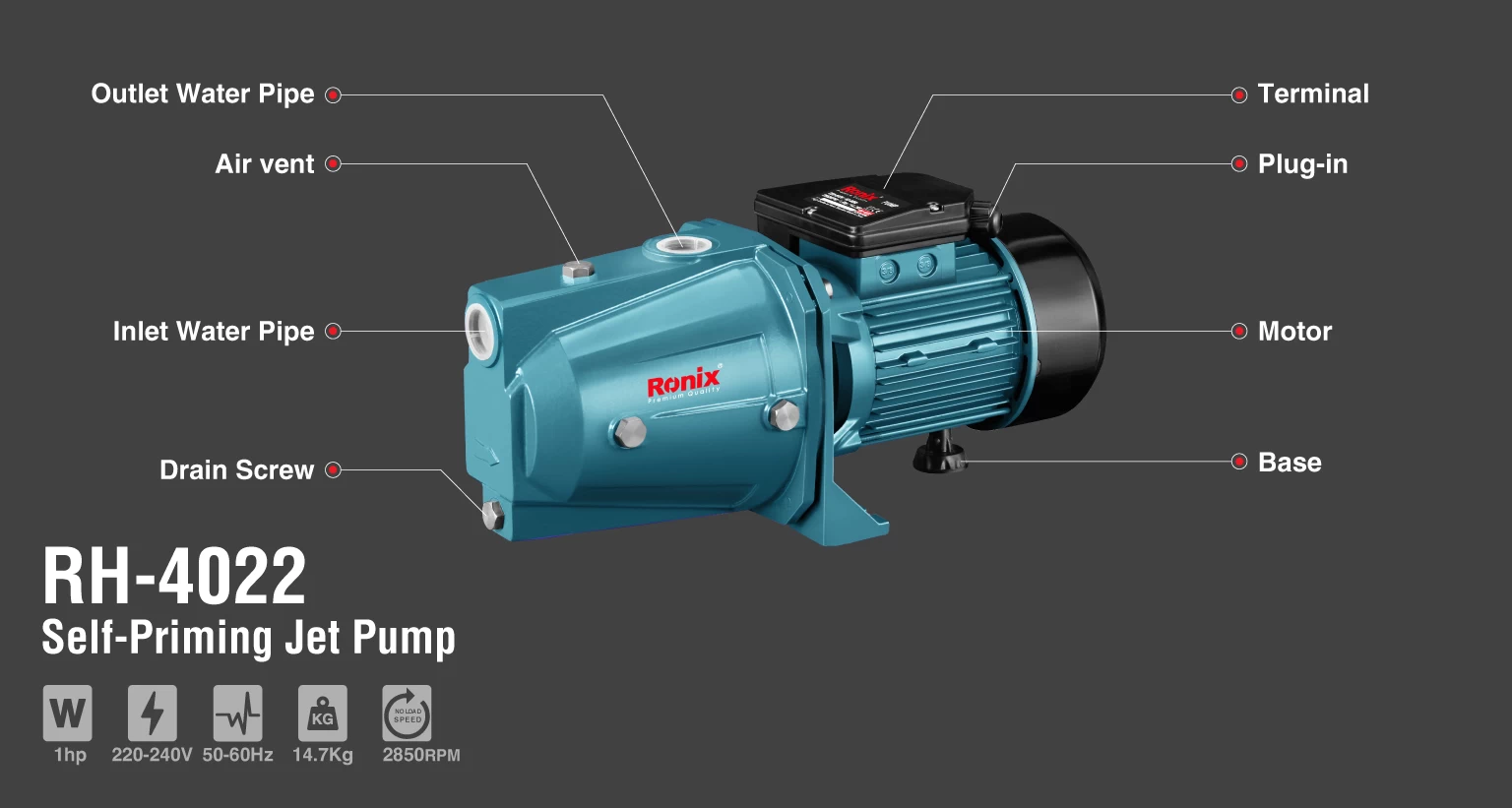 SPECIFICATION
| | |
| --- | --- |
| Model | |
| Power | 1hp |
| Voltage | 220-240V |
| Frequency | 50Hz |
| Min. Flow | |
| Max. Flow | |
| Min. Head | 20m |
| | |
| | |
| Speed | 2850RPM |
| | |
| | |
| | 5.2BAR |
| | IP44 |
| | |
| | |
| | ALUMINUM |
| | |
| | |
| | |
| | |
| | |
| | 14.7kg |
| | |
Detailed Description
Ronix RH-4022 is a 1 horsepower strong self-priming jet pump that can offer a maximum flow rate of 3.0m³/h in addition to a maximum pumping head of 52m which greatly increases its versatility and ability to work in various places and industries.

Ronix RH-4022, 1HP Self-Priming Jet Pump:
Individuals who rely on well water for their residential or agricultural needs can benefit from buying and using self-priming jet pumps. These pumps are especially useful in scenarios where the water source is located below the level of the pump. They can also be used in irrigation systems, swimming pools, and fountains. We have designed our RH-4022 model with all of these use cases in mind which has resulted in a robust and powerful pump that can deal with any situation without breaking a sweat. Encased in a cast iron housing with a protection level of IP44 and a working pressure of 5.2 bar, Ronix RH-4022 will be the last self-priming jet pump you will ever buy. Scroll down for more information.

Motor and mechanism:
Ronix Rh-4022 is equipped with a 1 horsepower strong motor that can rotate its impeller at a maximum speed of 2850RPM. This motor can work with 220 to 240V electricity and can offer a wide range flow of 0.3 to 3.0m³/h in addition to minimum and maximum pumping heads of 20 to 52m respectively. Furthermore, this motor helps our self-priming pump to offer a total suction lift of up to 9m. This much power and capabilities make our RH-4022 model the best option to use for the transfer of water in domestic, small-scale industrial and agriculture, and irrigation of gardens.

Body:
The RH-4022 model with A 14.7kg weight is encased in cast iron housing that features a protection rating of IP44. This enclosure has two 1-inch-wide ports that act as the inlet and outlet of the pump, making it compatible with most plumbing systems used in homes or agricultural scenarios. In addition to this protective layer, the motor of our RH-4022 is also encased in an aluminum housing that further increases its protection against unwanted and harmful elements from damaging the motor. Alongside the robust and sturdy materials used for protecting the internal machinery, these internal parts themselves are also made using high-quality and robust materials. For example, the impeller of the RH-4022 model is made of stainless steel while its impeller is made of brass. The coil winding is also done using a high-percentage copper that further enhances its durability and longevity.

Safety:
With a working pressure of 5.2 bars, Ronix RH-4022 is packed with safety and protective measures and features as well. It features a thermal protector for its motor and a class B insulation rating while also having a SIC/Graphite mechanical seal. These choices help our product to be able to work at a maximum ambient temperature of 40 degrees Celsius and also pump liquids as hot as 60 degrees Celsius.

Packaging:
Ronix RH-4022 comes neatly packaged inside a Ronix color box.