Ronix Turbo Row Diamond Cup Wheel RH-3528
18686
Features
- Turbo-row cup design , a smooth finish
- Can be used for a wide range of applications, whether dry or wet.
- Provides high-quality material for more durability and longer life
-precision balanced steel body which reduces wobble and vibration for better handling over material removal
- Suitable for power tool machine like angle grinder
Diamond cup wheels are a type of abrasive tool used for grinding and smoothing surfaces made of concrete, stone, and other hard materials. They are called "cup wheels" because they have a cup-shaped design with diamond grits on their surface which allows them to grind and polish surfaces quickly and effectively. Diamond cup wheels are beneficial for those working in the construction and remodeling industries, as well as DIY enthusiasts who need to smooth or polish surfaces in their homes.
Made from A3# and featuring 3mm thick blades, Ronix RH-3528 is a diamond cup wheel that can help you in any of these applications and so much more. This wheel uses a turbo row design to provide a smooth finish which makes it suitable for powerful machines like angle grinders.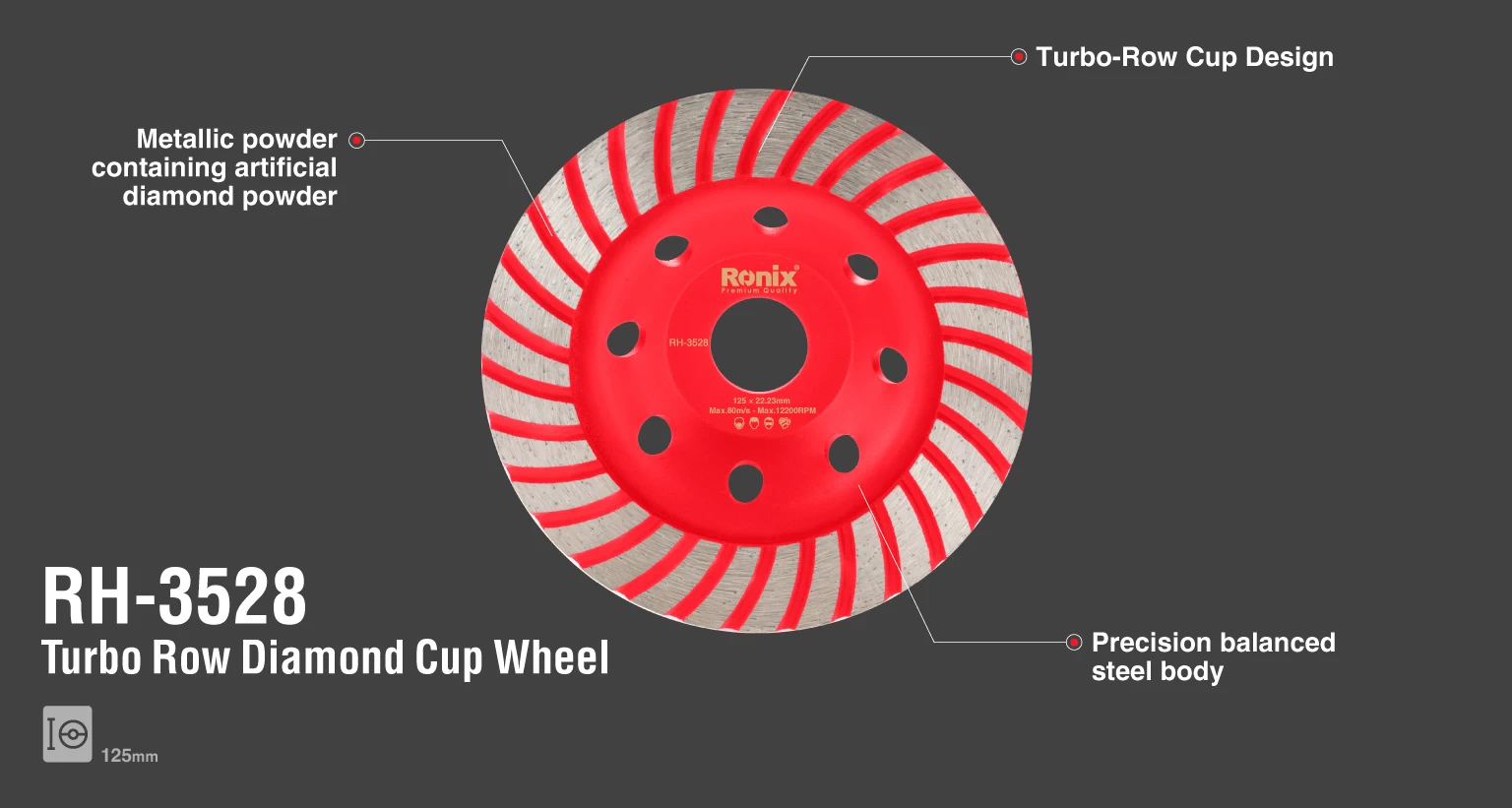 Specifications
| | |
| --- | --- |
| Model | RH-3528 |
| | 125mm |
| | |
| Type | |
| | 3mm |
| Material | |
| | Metallic powder containing artificial diamond powder |
| | 30T |
| | |
| | |
Detailed Description 
Ronix RH-3528, diamond cup wheel has a diameter of 125mm that can operate at the maximum speed of 12200 RPM.

Ronix RH-3528, 125mm Turbo Row Diamond Cup Wheel:
Diamond cup wheels are usually used for grinding and shaping concrete and stone surfaces, removing coatings, and smoothing rough edges. They are also useful for preparing surfaces before applying paint or sealant, as they create a clean and smooth surface that improves adhesion. Overall, diamond cup wheels are powerful and versatile tools that can make quick work of a range of grinding and polishing tasks, making them an essential tool in a wide variety of settings. Featuring a turbo row design, Ronix RH-3528 uses 5.5mm thick segments that are made of metallic powder, containing artificial diamond powder. This makes our RH-3528 model one of the best cup wheels on the market. And here, we will take a closer look at its construction.

Body:
Ronix RH-3528 is 125mm wide in diameter and has an arbor size of 22.23mm. This wheel features a turbo row design that alongside its 3mm thick blades, provides a smooth finish whether the piece is wet or dry. Our RH-3528 model is made of A3# material and is divided into 30 segments. Each of these segments is made from a metallic powder containing artificial diamond powder with a thickness of 5.5mm.

Packaging:
The RH-3528 model can operate at a maximum speed of 12200R PM and comes encased inside a Ronix color box.