Rotary Tool Kit, 3403
18658
MVR 48000

MVR 480.00

Save MVR 720
---
---
-High efficiency 130W motor delivers 10000-35000 RPM 
no-load of speed
-High performance, light weight efficient device, suitable for a wide variety of operations
-Anti-dust ball bearings reduce dust penetration and ensure motor durability
-Variable speed adjustment regulates the speed to adapt to the operator's needs
-Includes 1 flexible shaft and 40 different rotary tool accessories for sanding, cutting, grinding, carving, polishing and cleaning solutions
-Locking pin system for easy and fast accessory changing and high safety mechanism
-2.3/3.2mm bit holder for different kinds of accessories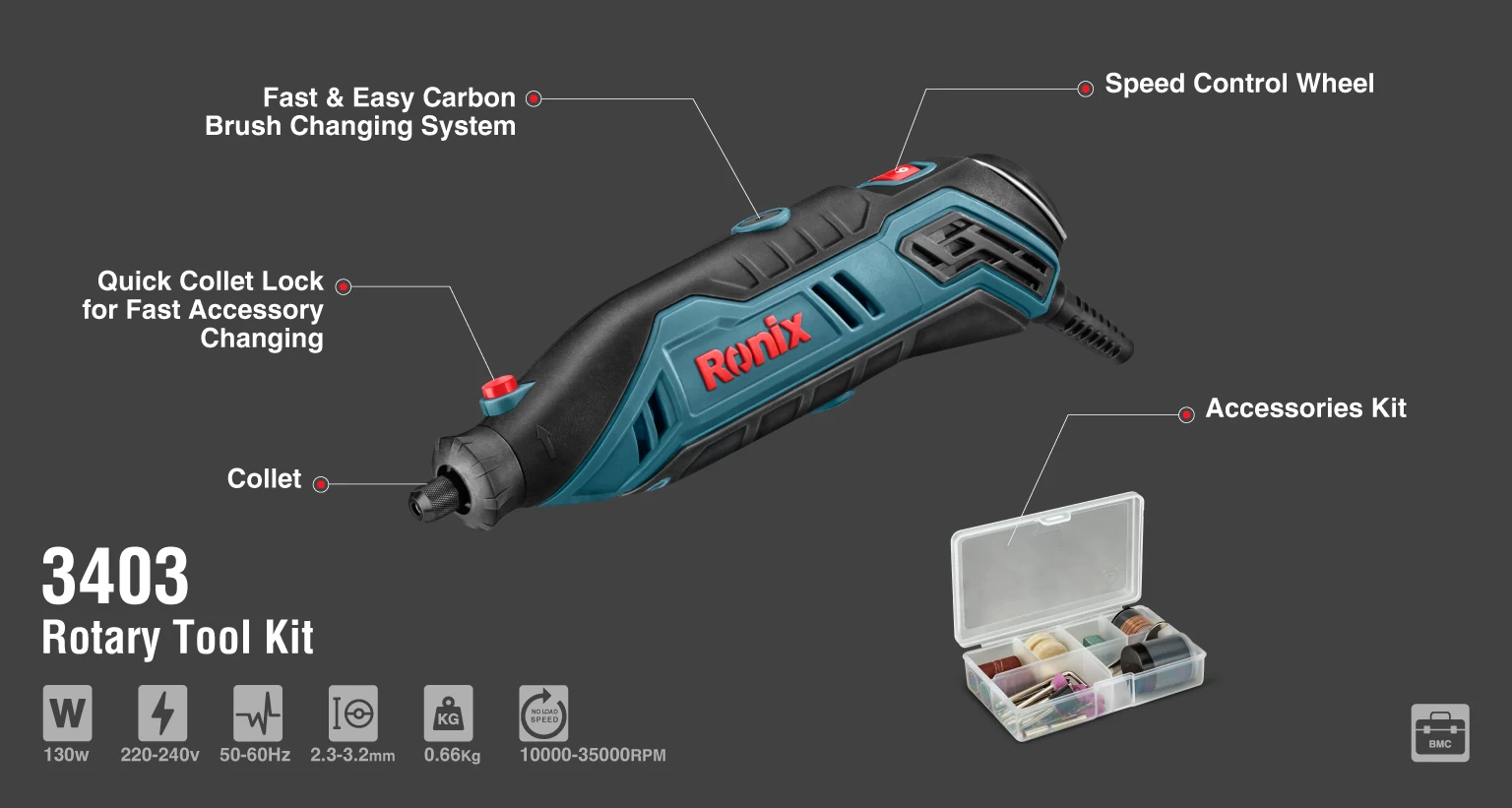 Many people tend to accumulate various kinds of tools on their workshop so that there wouldn't be any problems in case they were facing an obstacle. Many, however, keep their environment organized by intelligently choosing just one kit for all sanding, cutting, grinding, carving, polishing and cleaning solutions! Ronix 3403 Rotary Tool Kit with its 40 accessories can help you put an end to many unfinished tasks. This high-efficient tool with its 130W motor can deliver 10000-35000 RPM and with its 3.2mm bit holder, you can use it with different kinds of accessories.
| | |
| --- | --- |
| Model | 3403 |
| Power | 130W |
| Collect Size | 2.3 / 3.2mm |
| Voltage | 230V |
| Frequency | 50Hz |
| Weight | 0.66kg |
| Supplied In | BMC |
| Includes | 10 grinding wheels with shank 3.2mm , 1 sanding shank 3.2mm, 2 mandrel 3.2mm , 2 drills 2.3mm 3.2mm , 2 Diamond bits 3.2mm , Spanner , 2 Collet 2.3mm 3.2mm , 8 Cut off wheels , 3 sanding papers , 4 felt wheels , 1 whet stone , 4 Sanding band , 1 Bending shaft |
Detailed Description
Ronix 3403 Rotary Tool Kit, 130W, 10000-35000RPM is a multi-purpose power tool that may be used on a variety of projects. Dremel is the most well-known rotary tool manufacturer. It's essentially a one-tool-does-it-all gadget that's especially handy for light cutting, grinding, and cleaning jobs, making it a must-have in any toolbox.
Your 3403 Multi-Tool Kit may become an excellent plumber, carpenter, jeweler, or DIY's aid by integrating 40 various rotary tool attachments for sanding, cutting, grinding, carving, polishing, and cleaning solutions. Slice through plastic, wood, copper and even galvanized metal piping with ease. Doing any of these jobs, you will definitely need accuracy with variable speed.
Motor:
Less than a kilogram, Ronix 3403 Rotary Tool Kit, 130W, 10000-35000RPM uses a 130W motor inside which delivers 10000-35000RPM with no-load speed. The mechanism of it, is quite simple with its anti-dust ball bearings which reduce dust penetration and ensure durability. Because of its great power and high rotation speed, impossible angles, tight spaces and delicate works are super simple to go for by operating the Ronix 3403. For instance, you can trim off pipes and screws inside cabinets, in the ceiling, behind the wall and under floor boards and many other hard-to-reach places. And that's because the variable speed adjustment is included to take control of your Ronix 3403 tool kit's speed to adapt to your needs. This variable speed is resulted from an analog dimmer switch.
Body:
 It still appears like a grinder despite its considerably slimmer construction. With its excellent and efficient performance and little weight, this gadget can accomplish whatever a grinder can (but on smaller scales). Any operator working on any task can use the 3.2mm bit holder and its three collet chuck tools. The locking pin system aids in easy and quick accessory changes, and the high safety mechanism gives the 3403 a significant benefit when choosing the correct accessory and collet size.
Accessories:
The Ronix 3403 Rotary Tool Kit, 130W, 10000-35000RPM includes several items which are all supplied in a pouch bag. The items are a flexible driver to make working on small scales much more comfortable, 40 different rotary tool accessories and a magnetic LED light to deal with dark spots. The variety of accessories let the operator put on any functions different types of workpieces that is the most highlighted point about 3403Rotary Tool Kit.
Although rotary tool kits are designed in different models and power levels, they all have this important point in common that they have to spin at very high speed to get the job done. Most of them spin at around 20,000 RPM, while a rotary power tool like the Ronix 3403 can deliver speed up to 35,000 RPM. Considering its fit-into-pocket size, it's easy to see how it can reach such high speeds without causing muscle fatigue and discomfort.
Wear the appropriate safety equipment, practice inserting and fastening bits, choose the appropriate bit for the work, and clean your Ronix 3403 Rotary Tool Kit after each usage. We guarantee that we will not let you down.