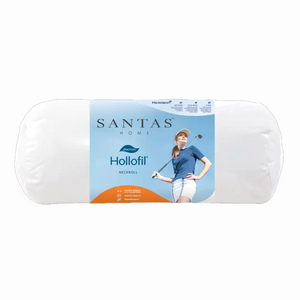 SANTAS Hollofil Microban Neckroll - 7 x 16 Inch White
15390
Because rest is important, the pillow from the brand SANTAS helps support the body of the head very well. Gives a soft and comfortable touch to help you sleep well And does not cause pain in the neck
Product details
A pillow of the right shape and length to support the neck.

Packed with dacron holofil fibers for a soft and comfortable feel.

Cover made from cotton USA.

Helps to hug the body around the neck

 

And the head as well

Combining Microban helps inhibit the growth of bacteria and fungi.

Soft-Touch technology to add softness to the fabric.

Free from dust mites

 

Does not cause allergies

Excellent ventilation, not damp

White

Model SAPOHL MR7X16 

Size 7 x 16 inches

Product Weight: 870 g.
Maintenance