Submersible Pump 4030
18725
MVR 1,00000

MVR 1,000.00

Save MVR 1,500
---
---
Submersible pump design to be immersed in water for lifting and draining water 
-Suitable for clean water and free of solids and abrasives, non-viscous, nonaggressive, non-crystallised and other liquids similar to water in physical and chemical properties
-Properly in domestic,drainage or lifting  water from the thanks or river or pool, irrigation of gardens and allotments usage
-Pumps equipped with float switch for automatically controlling water level and pump operation
-Provides with Protection level IP68 Thermal protector and insulation Class B to ensure motor long life
-More efficiency by using Ceramic/Graphite mechanical seal, PPO impeller, PP pump housing 
-The motor duty cycle type S1 lead to increase  durability
Submersible pumps are devices used to transport fluids, typically water, from one location to another. These pumps are designed to be fully submerged in the fluid they are pumping, allowing for efficient and reliable operation. Submersible pumps work by using a motor to rotate an impeller, which then moves the fluid through the pump and into the outlet port. Individuals who rely on wells or other underground water sources for their residential or agricultural needs may find submersible pumps beneficial. Protected by a PP housing with a protection rating of IP68, Ronix RH-4030 is a submersible pump built to last.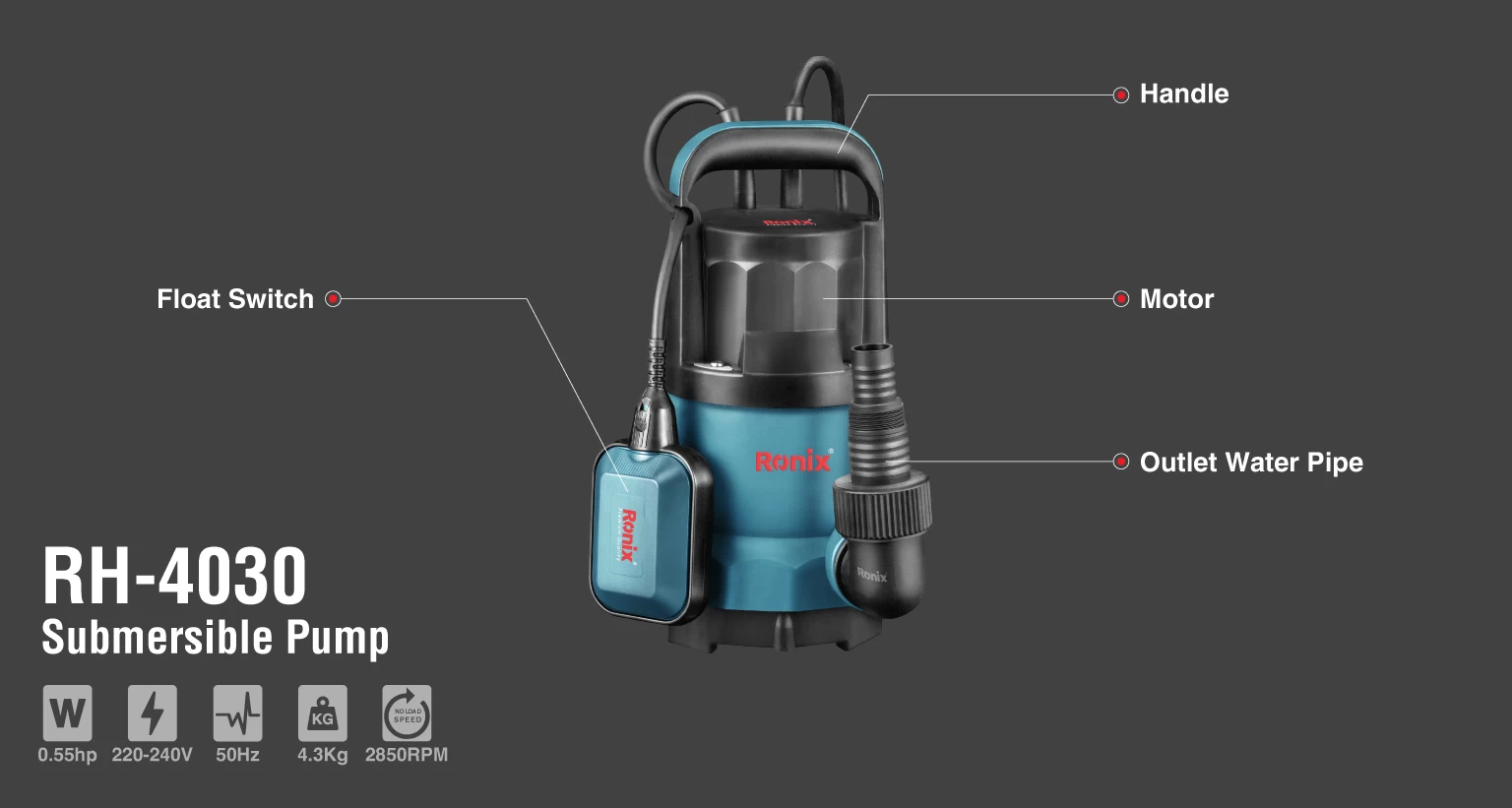 SPECIFICATION
| | |
| --- | --- |
| Model | 4030 |
| Power | 0.55hp |
| Voltage | 220-240V |
| Frequency | 50Hz |
| Min. Flow | 0.6m³/h |
| Max. Flow | |
| Min. Head | 1.8mm |
| Inlet/outlet port diameter | |
| Speed | 2850RPM |
| Max liquid Temperature | |
| Max. Ambient temperature | |
| | 0.7 Bar |
| | 4mm |
| | 5mm |
| | 30 seconds |
| | IP68 |
| | Class B |
| | |
| | |
| | |
| | |
| | Copper |
| | PPO |
| | |
| | 4.3kg |
| | |
| Includes | |
Detailed Description
Ronix RH-4030 is a submersible pump that features a 0.55 horsepower motor, capable of offering a maximum flow rate of 7m³/h alongside a maximum pumping head of 7.5m.

Ronix RH-4030, 0.55HP Submersible Pump:
From pumping water from a well, draining a swimming pool, and dewatering flooded areas to sewage pumping and wastewater treatment, these pumps can be quite versatile. They are durable, efficient, and reliable devices that can be used in a variety of settings to transport fluids with ease. Ronix RH-4030 not only offers all of this versatility but it also brings so many more features and capabilities to the table. To find out more about these features and design elements, keep reading.

Motor and mechanism:
Equipped with a 0.55 horsepower strong motor, Ronix RH-4030 is capable of offering a flow range of 0.6 to 7m³/h. This wide flow range is accompanied by a pumping head range of 1.8 to 7.5m which makes our RH-4030 the perfect candidate for moving water in a submerged state. Speaking of submersion, the RH-4030 model can operate at a maximum depth of 5m with the ability to run dry for as long as 30 seconds. The motor of this model also works with 220 to 240V electricity and can rotate its impeller at a maximum speed of 2850 RPM. All of these features and capabilities result in our RH-4030 model having a working pressure of 0.7 bar.

Body:
To increase its portability, we have equipped Ronix RH-4030 with a handle and made its body with a durable yet lightweight PP material. The same type of material also encases the motor to protect it against harmful elements which further enhances its durability and longevity. Alongside these protective measures, we have used high-quality materials for the construction of the internal machinery as well. The impeller is made of PPO material while its shaft uses stainless steel which ensures a long-lasting life for our product. It is also worth mentioning that the exterior of our RH-4030 model features two 1 ½ inch ports that each act as an inlet and outlet and can pass through solid materials as wide as 4mm in diameter.

Safety:
While the usage of durable and high-quality materials is essential for the safety and longevity of a product, it is not enough. This is why our RH-4030 model features a thermal protector for its motor alongside a ceramic/graphite mechanical seal and class B insulation. All of these decisions and the chosen material go hand in hand to offer a durable and performant submersible pump that can work in an ambient temperature as hot as 40 degrees Celsius and pump liquids with a maximum temperature of 35 degrees Celsius.

Accessories and Packaging:
Ronix RH-4030 comes neatly packaged inside a Ronix color box. In this box, you will find a submersible pump, a float switch, and a 9m-long cable. The included float switch detects the presence or absence of water around the pump and turns it off or on depending on the environment, preventing the pump from running dry.