Universal High Pressure Washer, 5.5L/Min RP-U100C
18718
-Powerful 1400W universal motor generates high water pressure for maximum cleaning power
-Total stop system automatically shuts off pump when trigger is not engaged and with the help of self-suction function ensures motor's long-life and also save energy
-Built-in thermal protector controls the temperature of the motor during longtime working
-New design high-pressure gun for better functionality and more convenience
-Compact, portable design enables easy movement and provides more comfort during different cleaning tasks
-Equipped with both adjustable and turbo lances which manufactured from high-quality raw material and let you easily control spray angle in different cleaning tasks
-External detergent tank for extra cleaning power and reducing cleaning time
-Automatic hose connector for easy and fast set up and quick inserting and removing of the hose
-Suitable for both household and industrial usage 
-5-meter high-quality PVC pressure hose for more durability and higher efficiency
-Tempered stainless steel plunger easily unchoke the dirt stuck in the nozzle
Point to Shine
Leave all the stains, dusts, grimed and contamination to the Ronix RP-U100C High Pressure Washer. A perfectly suitable tool for household and industrial use with an excellent power-to-weight ratio in order to complete all kinds of cleaning tasks. This High-Pressure Washer is powered by a high-efficiency 1400W universal motor to generate the maximum pressure of 100Bar. This pressure gives you 5.5L/Min flow rate which is more than enough to clean patios, driveways and decking, as well as washing cars, garden furniture, bikes and many other tasks. Total stop system and built-in-thermal protector are two fantastic features which make Ronix unique among all the other competitors.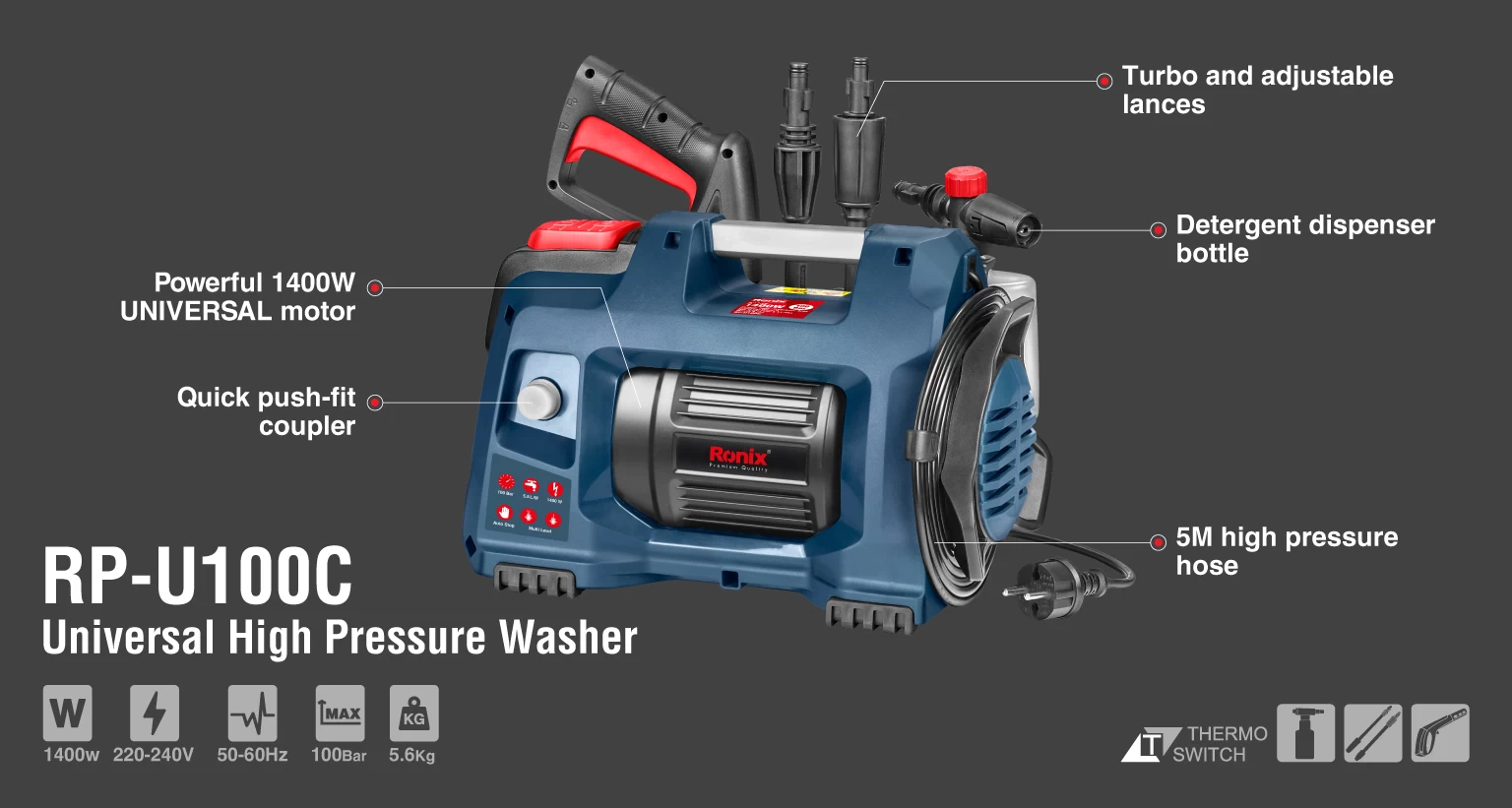 | | |
| --- | --- |
| Model | RP-U100C |
| Motor Type | Universal |
| Max Pressure | 100 Bar |
| Dimension | 410*290*280mm |
| Power | 1400W |
| Frequency | 50Hz |
| Weight | 5.3Kg |
| Voltage | 220V |
| Max Rated Flow | 5.5L/min |
| Detergent tank Type | External |
| Supplied In | Ronix color box |
| Includes | Quick connector, Water inlet nut, Adjustable and turbo lances, 5-meter high-pressure PVC hose, Detergent tank, High-pressure gun, 5-meter power cord |
Detailed Description Universal High Pressure Washer, 5.5L/Min  RP-U100C

Universal motors are the best at generating rotary power and RP-U100C has a 1400W of this kind. As soon as electric power runs through the switch, the motor starts rotating. This rotation will pump the air into the tank causing pressure with a crankshaft driven brass pumps and ceramic-coated pistons. The motor housing is sealed with packings and O-rings to prevent water penetration. Cleaning could be a time-consuming task; that's why RP-U100C has a built-in-thermal protector which controls the temperature of the motor during longtime working. There are one-way valves as input and output of the tank to prevent water backflow.

A water inlet nut consisting of a coupling and a coupler makes the connection as easy as possible. The coupler is designed to hold different sizes of hose as tight as possible in place and prevent water leakage. Now water is ready to leave the tank with 100Bar of pressure and all you need to do is to attach the 5 meter high-pressure PVC hose, the pressure gun and the lances which are all made of high-quality raw material.

All of these accessories are super easy to attach and detach gently by twisting them clockwise. You also can find the lock button on the gun so, you don't have to keep your finger on the trigger all the time.

New-designed adjustable lance gives you the opportunity to set the water pressure according to your need. From point high pressure to spray flow.

External detergent tank is one of the other attachable accessories which enables extra cleaning power and reduces the cleaning time.

One of the most important mechanisms on this high pressure washer is the total stop system which automatically shuts the pump off when the trigger is not engaged to maximizes life span.

If you are looking for a light weight, handy machine to help you clean you surrounding in the fastest and the most effective way possible, consider RP-U100C the best one you can have to wash the roofs, decks, sidewalks, garages etc. This piece of equipment with cutting edge technologies optimizes water consumption and reduce cleaning time.