Vacuum blower 1206
15969
-Efficient 500W motor provides a significant amount of air force for both blowing and vacuuming functions
-2 tools in one, quickly convert to a vacuum cleaner for added versatility
-6 different speed settings enable working with different blowing air rate in order to adapt to different kinds of applications
-Vortex design of fan blades will impressively increase air force
-Strong design suitable for applications in the workshop and on the construction site
-Lightweight design, ABS thermoplastic polymer housing enables convenient use
-Ergonomic design and non-slip handle provide convenient handling during operation
-Heat dissipation system ensures faster cooling and longer lifetime
-Lock button for convenient continuous operation
Cleanness is your right!
Ronix Industrial Blower 500W is a wonderful power tool designed for both blowing and vacuuming. This powerful tool with its strong 500W motor will help you clean your worksite perfectly without any leaf, woodchips or dust left anywhere! Its non-slip handle and ergonomic design will turn it into the best vacuum blower you have ever had. The Vortex design of the fan blades and its heat dissipation system are designed to increase the lifetime of the tool. Ronix 1206 Vacuum Blower will go through thick and thin with you!
| | |
| --- | --- |
| Model | 1206 |
| Power | 500W |
| Frequency | 50Hz |
| Weight | 1.7kg |
| No Loads of Speed | 0-13000 RPM |
| Maximum Air Flow | 91cfm |
| Supplied In | Ronix Color box |
| Includes | Blow rubber tube, Dust bag |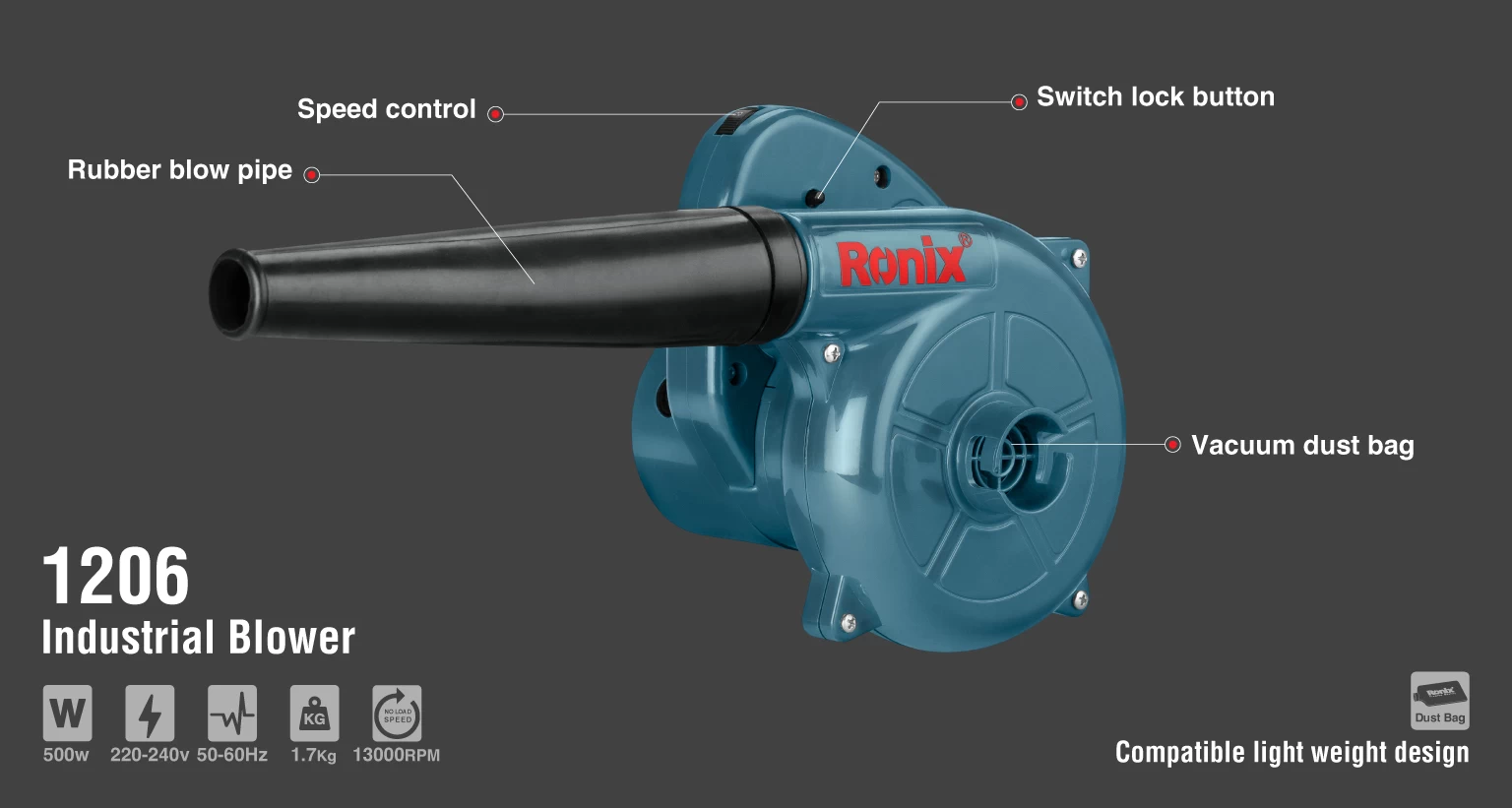 Detailed Description Vacuum blower 1206
Motor:
Ronix 1206 Vacuum Blower has a powerful motor working with 220V. This 400W motor provides a significant amount of air force for both blowing and vacuuming functions. The maximum no-load speed of 13000RPM has turned Ronix 1206 Vacuum Blower into a wonderfully fast power tool. The maximum airflow of 91Cfm is another great feature of this power tool. This vacuum blower is going to help you almost in every cleaning work on your worksite!
Mechanism and switches
After plugging the Ronix 1206 vacuum blower in, choose the right mode and start being fantastic! This tool is actually 2 tools in 1 so you can convert to a vacuum cleaner or blower without any difficulties. For adapting the power tool to different kinds of applications, you can choose its 6 various speed, too many options for a simple power tool, right? A lock button is also placed to give you a hand while doing continuous works. This tool is a cleaning expert!
Body
Ronix 1206 Vacuum Blower is a 1.7kg tool with an intelligently and ergonomically designed body. Its ABS thermoplastic polymer housing has caused this lightness, and it also provides a great deal of convenience for the operators while using the tool. Ronix 1206 Vacuum Blower is also suitable to be used on construction sites due to its strong design. Despite its strength, we have thought of your easiness as well, using a non-slip handle and Vortex design in its blades. This Vortex design will impressively increase the air-force of the power tool. Isn't it perfect? It actually is and it continues to be for a lifetime because its heat dissipation system will guarantee that. Perfection for a lifetime is right there in Ronix 1206 vacuum blower!
Ronix 1206 Vacuum Blower comes in a Ronix color box. The things that can be found in the box are a blow rubber tube and a dust bag for preventing the spread of dust while working. You have all you need all in a box!
Ronix 1206 Vacuum Blower with its 400W powerful motor and 2-functionality would be the best choice for those who look for quality and strength at the same time. You can clean your work construction site as fast as lightning!