Wet & Dry Vacuum Cleaner- 30L 1231
18734
Features:
-High-power industrial 1400W motor provides just the amount of suction needed to most any cleanup job
-Design for vacuum  functions
-Best-in-class suction power and air flow easily tackles tough jobs around the jobsite, shop or in the garage
-30 liter capacity to get the job done whether big or small
-With this versatile vacuum cleaner you can vacuum both wet and dry debris, dust, saw, dirt 
-Equipped with HEPA filter which prevent entering particles whose diameter is more than 0.3 μm to help extend the life of the motor and provides more efficient cleaning
-Durable and tough stainless steel tank and cart design allow for extra stability, storage, and maneuverability
-Suitable for tackling all types of dry and damp material for indoor and outdoor usage
Ronix 1231 vacuum cleaner is a solid choice for those who want to keep their job site safe and clean. 

With best-in-class suction power, a 30L dust bag capacity, and a remarkable airflow that can go up to 1.9m3/min, this tool is an expert in both blowing and vacuum functions. As the name suggests, this wet and dry vacuum cleaner is versatile and can handle removing a wide range of unwanted materials from dust, woodchips, and sawdust to water and oil effortlessly from a large area. 

1231 comes with a HEPA filter that traps harmful particles to extend the motor's life and ensure efficient cleaning. With A 1400W motor, 20 Kpa vacuum pressure, and a durable and tough tank, this vacuum pressure is engineered to excel at any cleanup task.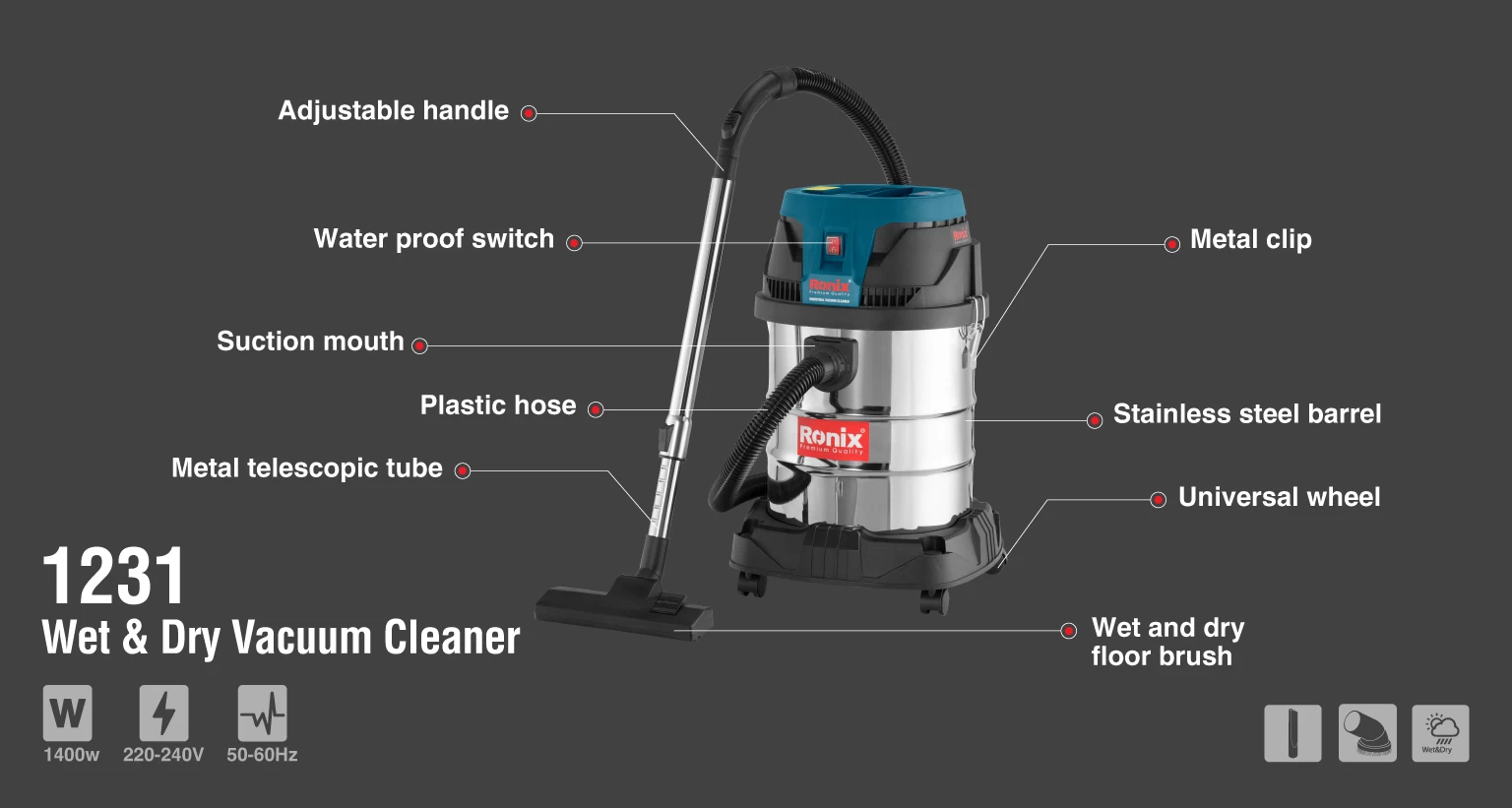 Detailed Description
Ronix 1231 multifunctional vacuum cleaner comes with an amazing dust bag capacity, high vacuum pressure and airflow, plus a complete set of accessories to help you work smart and not hard anymore!
1231 Vacuum Cleaner: Leave No Hiding Place for Dirt!
The market is filled with different models of vacuum cleaners that can fulfill your expectations and take care of your needs only if you make an informed choice.  
Ronix 1231 wet and dry vacuum cleaner enjoys a series of features that make it capable of spotless cleaning in a large area and leaving the dirt no place to hide: 
Motor and mechanism:
A high-power 1400W motor provides the Ronix 1231 wet and dry vacuum cleaner with enough suction power to take care of any cleaning task.
Thanks to its wet and dry floor brush, you can use it to do away with any type of unwanted material.
This tool delivers a vacuum pressure of 20 Kpa and a maximum airflow rate of 1.9 cubic meters per minute for spotless cleaning. 

Capacity:
1231's dust bag has a 30L capacity to collect dust and rubbish for added removal efficiency.

Filter:
This vacuum cleaner comes with two filters: a washable HEPA filter and a sponge filter. The HEPA filter (High-Efficiency Particulate Air) is the most effective filter for removing solid particles from the air and absorbing particles of more than 0.3 μm. This increases the engine's durability and improves the tool's performance.

Body:
1231 comes with a tank and cart made of stainless steel that provide the user with extra durability and storage suitable for both indoor and outdoor use. 

Packaging and Accessories:
This versatile vacuum cleaner comes in a color box containing a wide range of accessories, such as a plastic hose with an adjustable handle, a metal telescopic tube, Wet & Dry Floor Brush, Crevice Nozzle, Round Brush, Non-woven cloth filter, sponge filter, and one washable HEPA filter.
Specifications
| | |
| --- | --- |
| Model | 1231 |
| Voltage | 220-240V |
| Power | 1400W |
| Frequency | 50-60Hz |
| Maximum Air Flow | 1.9 m3/min |
| Vacuum Pressure | 20 Kpa |
| Dust Bag Capacity | 30 L |
| | |
| | Plastic hose with adjustable handle, metal telescopic tube, Wet & Dry Floor Brush, Crevice Nozzle, Round Brush, Non-woven cloth filter, sponge filter, washable HEPA filter |