Wheeled brush cutter, 4555
15979
Features

-51.7cc, high-power 2-stroke, 1.35kw engine with outstanding performance in heavy-duty operations
-The high-torque engine allows you to cut through the toughest areas with less strain on the engine
-The ergonomic aluminum bike-style handle with rubber cover provides increased comfort and precise control
-Supplied with a new-design nylon trimming head and a 3T metal cutting blade for heavy undergrowth
-Line blade to keep trimmer line in the perfect length
-Engine clean air-intake system
-Gas powered trimmer comes with metal blade, which results in easy handling and maximum functionality
-Combination throttle switch structure
-Durable high-quality steel shaft for longer life
-New smart primer bulb start system makes the machine start easier with less effort
-Anti-vibration system makes the operation more comfortable and reduces fatigue during long hours of working 
-Excellent CHAMPION ignition system results in powerful, smooth running
-New design clutch design results in better performance and higher efficiency 
-Ronix-design guard for cleaner operation
-Pneumatic tires: shock absorption, good grip
Wheeled brush cutter
If you are looking for something comfortable, powerful, and high-quality for your garden, the Ronix 4555 wheeled brush cutter would be a wonderful option. With its powerful 51.7cc, two-stroke, 1350W engine, you can reach a maximum speed of 7500 RPM and finish your gardening tasks quickly and strongly. It has an anti-vibration system that makes the operation more comfortable and reduces fatigue during long hours of working.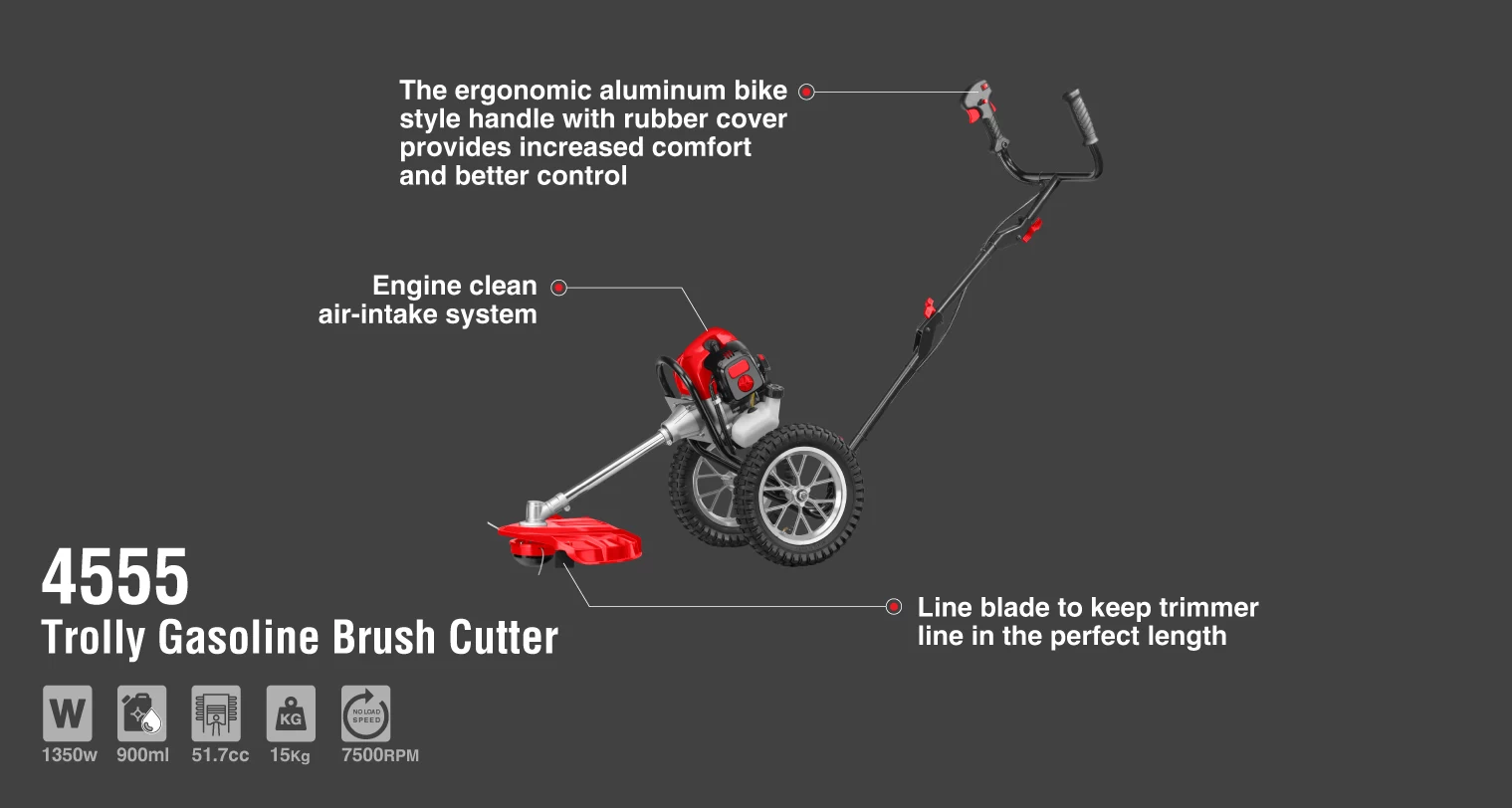 Specifications

| | |
| --- | --- |
| Model | 4555 |
| Engine Model | 1E44F-5 |
| Related output power | 1350W |
| Weight | 14kg |
| Engine Type | 2 Stroke |
| Fuel Capacity | 900ml |
| Displacement | 51.7cc |
| Working Pole Diameter | 26mm |
| Shaft Type | Whole Shaft |
| Transmission Shaft | 9 Teeth |
| Power Source | Gasoline |
| Two-cycle Oil/Gasoline Mixing ratio | 1:40 |
| Max speed | 7500 RPM |
| Supplied in | Ronix color box |
| Includes | 3T metal blade, Nylon trimming head, Guard, Shoulder harness, mixing oil, bottle, Hex key, Wheel base |
Detailed Description

Ronix 4555 Wheeled Brush Cutter is all you need to guarantee the health of your garden with more power and less effort!
Ronix 4555 Wheeled Brush Cutter: An In-Demand Gardening Tool 

The efficiency of a brush cutter depends on many factors, including fuel capacity, shaft type, speed, weight, and oil/gasoline mixing ratio. Take a look at the following paragraphs to discover what makes 4555 an in-demand tool among farmers or gardeners. 

Engine and Mechanism:
Thanks to a high-power 1350W 2-stroke engine, the Ronix 4555 wheeled brush cutter delivers outstanding performance in high-duty cutting operations. This engine has a 51.7-cc displacement capacity and delivers a maximum speed of 7500 RPM. It delivers an incredibly high torque to cut through the toughest areas without putting too much pressure on the tool. 
A new smart primer bulb start system makes the machine start with less effort, and a CHAMPION ignition system guarantees a powerful and smooth operation. 
Last but not least, the engine is equipped with a clean air-intake system that is there to supply it with clean air during the operation.

Body and switches:
With 15 kg of weight, the Ronix 4555 wheeled brush cutter weighs 15 kg, so it is equipped with two big wheels for greater portability. It features an ergonomic aluminum bike-style handle with a rubber cover for users' increased convenience and better control.
When it comes to switches, this brush cutter is equipped with a combination throttle structure that results in an efficient operation.

Shaft:
4555 features a 9-teeth whole shaft that delivers power from the body to the metal blade or the trimming head of the tool through a 26-mm-diameter working pole. Incredibly high in quality, this steel shaft is durable and will last for a long time. 
Blade:
The Ronix 4555 comes with a nylon trimming head for a clean and efficient cutting operation that is enhanced by a Ronix-designed guard. There is also a nylon line blade in this brush cutter to guarantee perfect accuracy in trimming.

Tank:
Ronix 4555 feeds on gasoline to run. It has a fuel capacity of 900ML and a gasoline mixing ratio of 1:25

Packaging and Accessories:
This grass cutter is offered in a Ronix color box that also includes useful accessories such as 2 wheels, a nylon trimming head, a guard, a mixing oil bottle, and a tool kit bag.