Ronix Cordless Mini compressor 20V 8605
19370
Features
-High-efficiency pump and motor for true 150 PSI capability
-Multi-function tool suitable for inflating tires on cars, bikes, sedan,…
-Comes with different adapapters to cover a wide variety of applications
-Auto shut off when reaching the desired air pressure
-Digital Pressure Gauge shows the amount of air pressure
-High-quality ergonomic body design for more convenient use
-Equipped with high-efficiency LED light, so can be used also as a flashlight
-Special design for air hose and adaptors placement
-Robber bases for more stability
Cordless
Ideal for inflating car tires, bicycle tires, sedan tires, and footballs, you can't go wrong with this multi-functional 20V Cordless Mini Air Compressor. With its high-efficiency pump and motor, Ronix 8605 Mini Air Compressor can produce a maximum pressure of 150 PSI. with its digital pressure gauge, the user can quickly check the air pressure on PSI, KPA, and BAR settings.
Due to its portability and light weight, this mini air compressor gives you more freedom and all the power you're looking for on job sites.
Another positive feature of 8605 is that the compressor automatically shuts off once the desired air pressure is reached. The air compressor can also be used as a flashlight with its high-competence LED light.
Are you surprised by all the diversity this Cordless Mini Air Compressor delivers?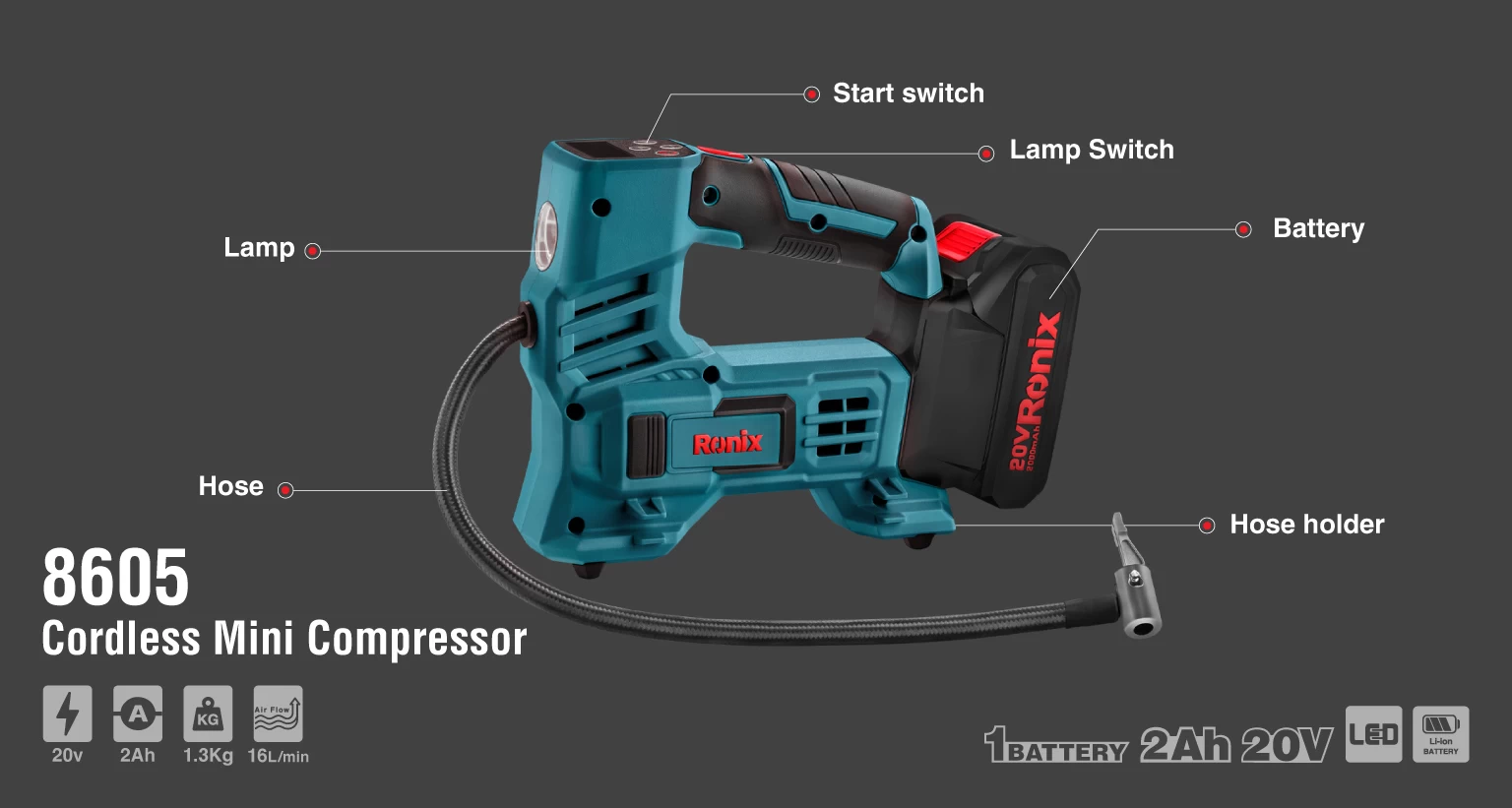 Specifications
| | |
| --- | --- |
| Model | 8605 |
| Battery Capacity | 2Ah |
| | 20V |
| | |
| | |
| | |
| | 40cm |
| | |
| Continuous Working Time (All Diodes) | 23min |
| | 60min |
| Weight | 1.3kg |
| | |
| Includes | Ball Adaptor, Tire Vale Adaptor,1pc 2.0Ah Battery, 1pc 2.0A Charger |
Detailed Description
The Ronix 8605 Cordless Mini Air Compressor offers all of the comfort and portability of cordless and lets you continue using the pneumatic tools you already have. In the following, we'll take a look at the detailed descriptions of this mini air compressor.
What features should you look for when buying a cordless mini-air compressor?
Knowing a tool's mechanism and inner spare parts helps you have an excellent choice when buying a portable air compressor. Let's have a review of 8605 features and specifications in detail.

Motor and Mechanism:
Ronix 8605 Cordless Mini Air Compressor is powered by a high-efficiency pump and motor capable of producing a maximum pressure capacity of 150 PSI/1035 kPa/10.35 bar. The motor can also deliver a maximum airflow of 16 liters per minute. This compressor's mechanism is designed to shut off automatically once the desired pressure is reached.

Body:
This Ronix-built cordless mini air compressor is a versatile inflator ergonomically designed to be user-friendly and deliver a desired experience to the operators. This compact air compressor only weighs 1.3kg and can be used on every job site. The rubber bases are included for the stability of the compressor.

Hose:
The inflator hose length is 40cm, accessible for all inflating needs. The unique design of the air hose and the adaptor's placement help the operator have a convenient experience using this mini air compressor.

LED Light:
A high-quality LED light is included in the compressor, which can be used as a flashlight with an LED flux of 120Lum.

Digital Pressure Gauge:
A digital pressure gauge is included in the tool to show the amount of air pressure. You can set the air pressure on this pressure gauge. To increase the pressure value, press the plus button. To decrease the pressure value, press the minus button. You can set the pressure value between 20 kPa (3 PSI) and 1035 kPa (150 PSI).

Switches:
There are some buttons on top of the compressor to control the tool. The main power ON/OFF switch, two plus and minus buttons, and a button to control the air pressure There is another LED light switch to turn the lamp on and use the tool as a flashlight.


Battery:
The Ronix 8605 cordless digital compressor is a member of the Ronix all-in-one 86 series, meaning that its lithium-ion battery is compatible with all of Ronix's 86 series tools. Its 20V battery has a capacity of 2.0Ah and allows up to 23min minutes of maximum (no load) working time. The battery is provided with a 2-in-1 (110-240V) fast charger that takes up to 60 minutes to fully charge.


Accessories and packaging:
The Ronix 8605 color box comes with a ball adaptor, a tire valve adaptor, a 2.0Ah lithium-ion battery, and a 2in1 110-240V charger.