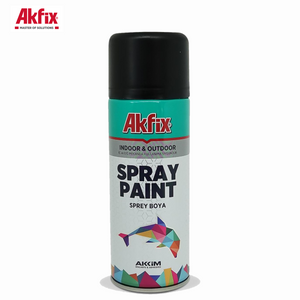 Akfix Metal Matt Effect Spray Paint - Black -400ml
15338
Ideal for handicraft works on wood, metal, glass, cardboard and plants. Bronze Spray is particularly suitable for decorative indoor uses and indispensable for stand constructors, decorators, and flower arrangers. Metal matt spray is also a good choice for handicraft work at home or in courses and seminars. ( RAL 9005)
Properties
High-grade synthetic quality.
Long-term high coverage and filling power.
Excellent adhesion.
Good flow, smooth surface.
Quick drying (The drying time depends on surrounding temperature, air humidity and thickness of the applied coat).
Suitable for use on indoor objects.
Resistant to water and common household cleansers.
Effect of gloss can change by intense rubbing or wiping.
Applications Area
For handicraft works on wood, metal, glass, cardboard and plants.
Suitable for decorative indoor uses.