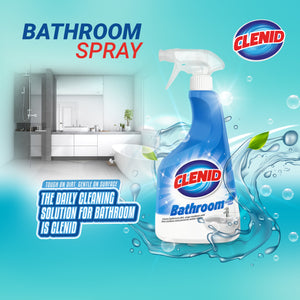 Clenid Bathroom Spray
18211
FIELD OF USAGE
Use Clenid Bathroom Spray on sinks, shower cabins, toilets, bathtubs, shower heads, glass, tiles, and seams (sutures).
USAGE INSTRUCTIONS
Press on the child lock on the top of the Clenid Bathroom Spray, and turn it "Stop" to "Spray" symbol (insert the symbol).

To use the product in "Spray" mode, keep the smart lid before the spraying mechanism.

For the "Foam" mode, just keep the smart lid closed. Use the Clenid Bathroom Spray on the dirty surface and wipe it with a damp cloth or a sponge.

Then, rinse the surface with plenty of water.

For persistent and difficult stains, leave the Clenid Bathroom Spray on the dirty surface for at least 2-3 minutes.
WARNINGS
Do not use Clenid Kitchen Spray with other cleaning agents, never mix them. It's not suitable to use on surfaces and materials such as marble, natural stones, linoleum, etc., that are not resistant to acidic cleaners . Do not use it on painted, damaged and/or hot surfaces and materials. Test before use in all other areas. Do not forget to wear gloves when using Clenid Kitchen Spray. For detailed information, please read the product label.