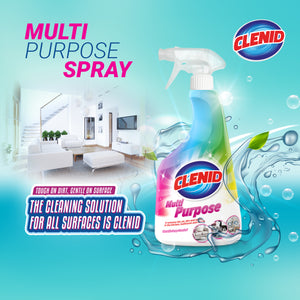 Clenid Multi Purpose Spray with Marseilles Soap
18213
FIELD OF USAGE
Use Clenid Multi Purpose Spray with Marseilles Soap on the kitchen and bathroom surfaces, cooker, oven, kitchen hood, faucet, sink, kitchen worktops and cabinets, steel kitchen utensils, glass, tiles and ceramic surfaces, clothes, fabric, home textile, carpet and seat surfaces, plastic garden furniture, bicycle and automobile rims.
USAGE INSTRUCTIONS
On Kitchen and Bathroom Surfaces Spray the product on the dirty surfaces and wipe it with a damp cloth or a sponge.

Then, rinse the surface with plenty of water. For persistent and difficult stains, leave the product on the dirty surface for at least 2-3 minutes.

On Garments and Household Linens Apply directly to the area of the stain; Scrub it right away and then wash it manually wash/in washing machine.

On Carpets and Sofas Apply directly to the area of the stain and wipe it with a damp cloth or sponge.
WARNINGS
Do not mix it with other cleaning materials and never use them together. It may leave a mark on the surface if it is kept without rinsing for a long time. When sprayed on very light or white surfaces, clean the surface thoroughly with a cloth or sponge directly without waiting. Perform a color permanence test in a non-visible area before using it in laundry. Do not use on wool, leather, suede, satin, velvet, silk and fabrics with the phrase "only dry cleaning". Do not use on wooden and aluminum surfaces and materials; painted, scratched or damaged surfaces and materials. Test before use in all other areas.